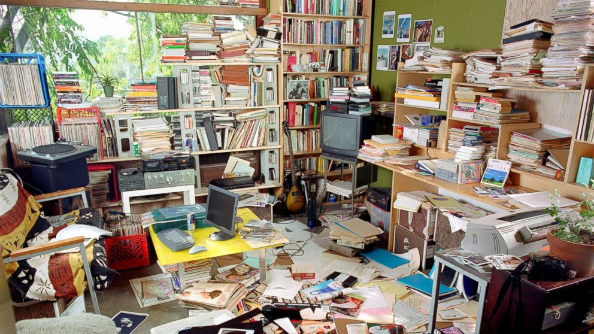 We have the utmost respect for each and every one of our clients and their privacy. We understand that the matter of hoarding and the steps taken to seek help for this problem is a journey that our clients would more often than not like to keep private. Keeping this in mind, all of our vans and vehicles that come to your home are discreetly marked so nobody knows why we are there!
As stated before, we understand that the path to achieving a home free of clutter is a journey, but it is not one that you have to take on alone. Steri-Clean, Inc. works closely with our clients, interacting with them throughout the cleanup process and ensuring that they are comfortable the entire time we are performing the remediation process.
What would typically be a several week cleanup effort, can be done in just a couple days. Our cleanup process doesn't just deal with the clutter but the emotional state of our customer. Each clean up is focused around the particular needs of our clients. We customize a cleaning plan depending on their level of stress, anxiety and other emotions. Through our extensive experience and by attending to the emotional and psychological side of hoarding, we recognize that this process is one that can be stressful and overwhelming. We will do everything within our power to not add to the stress that is already there. We constantly monitor our customers to keep them in their comfort zone during the entire cleanup. We encourage the hoarder to be a part of the cleanup to help alleviate any concerns. We also recommend having a friend or family member present that can provide positive support and be non judgmental.
You've already taken huge steps in coming to our website to make an effort in addressing the issue of hoarding. Once again, you do not have to take this journey alone. Together we can get this done. In fact, since our inception in 1995, we have successfully cleaned over 25,000 homes affected with hoarding issues and restored just as many lives during the process. Our aftercare program for hoarders is simple, yet effective to prevent our customers from returning to old habits. If you or your loved one needs help de-cluttering, you have found the ONLY company that will do so with compassion, empathy, and that is entirely free of judgement. Trust in Steri-Clean, Inc. and allow us to do what we do best: restoring homes and lives!
Our Hoarding Cleanup Services Include:
Only Discreetly Marked Vehicles are Used
Free Email and Phone Support
Free Photo Estimates
Non Judgmental Hoarding and Clutter Clean-Up that is Catered to Each Individual Client
Triage and Sorting of Contents
Recovery of Valuables and Sentimental Items
Paperwork Recovery and Storage
Cleanup and Disposal of Animal/Human waste
Deep Cleaning/Gross Filth
Home Repair Referrals
Necessary Aftercare Resources
Appliance Recycling
E-Waste Recycling
Delivery of Storage
Containers Removal and Recycling of Non Running Vehicles
Photo/Video Documentation
Itemized Inventory
STEP 01

complete the INQUIRY form WITH YOUR DETAILS

STEP 02

UPLOAD PICTURES of the home or property we will be cleaning.

STEP 03

Indicate a good time to call you AND SUBMIT
We'll review your submission within one business day of receipt and contact you at the desired time to review your request.
Discuss your desire for the cleanup process; what you would like the home to look like, what your goals are, answer your questions. Some homes may still require an in-home assessment.
We'll email an estimate which details our discussion, the custom tailored approach to restore your home to a safe, functional, and enjoyable home for you, and provides a price for the services.
The team at Steri-Clean is here to assist you in any way we can, and that now includes electronic requests. A plan to declutter your home has never been easier. Submit your photos today and allow the professionals at Steri-Clean to assist you in enjoying your home sooner than you thought possible.