Hoarders are unique and how they got here is their own personal road map.
People that suffer from hoarding can't be helped by following a template, and this is why we start out fresh with each customer, learning everything about them, where they have been and what they want for their future. Our customized cleaning plan is developed by learning your particular desires.
We commonly ask clients what they are passionate about, or what they can't do because of the clutter. For some it's music, for others it may be cooking or crafting, but whatever our customer wants to do at home, we will help set up a spot or room, where their passion can come alive again! Here are some examples below of a music room we built for someone passionate about music. He now has a place to appreciate and showcase his love and passion which has given him true joy. He now uses his hands for writing songs and playing instruments instead of collecting items that truly never came close to filling his void.
Let us develop a customized cleaning plan specifically for you, your needs, and your home today!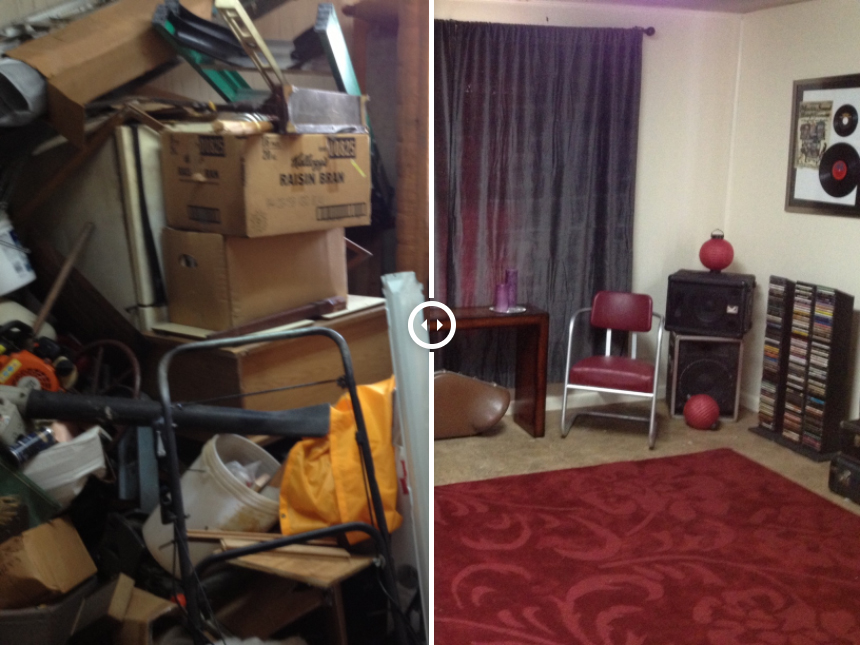 Our Hoarding Cleanup Services Include:
Only Discreetly Marked Vehicles are Used
Free Email and Phone Support
Free Photo Estimates
Non Judgmental Hoarding and Clutter Clean-Up that is Catered to Each Individual Client
Triage and Sorting of Contents
Recovery of Valuables and Sentimental Items
Paperwork Recovery and Storage
Cleanup and Disposal of Animal/Human waste
Deep Cleaning/Gross Filth
Home Repair Referrals
Necessary Aftercare Resources
Appliance Recycling
E-Waste Recycling
Delivery of Storage
Containers Removal
Recycling of Non Running Vehicles
Photo/Video Documentation
Itemized Inventory
STEP 01

complete the INQUIRY form WITH YOUR DETAILS

STEP 02

UPLOAD PICTURES of the home or property we will be cleaning.

STEP 03

Indicate a good time to call you AND SUBMIT
We'll review your submission within one business day of receipt and contact you at the desired time to review your request.
Discuss your desire for the cleanup process; what you would like the home to look like, what your goals are, answer your questions. Some homes may still require an in-home assessment.
We'll email an estimate which details our discussion, the custom tailored approach to restore your home to a safe, functional, and enjoyable home for you, and provides a price for the services.
The team at Steri-Clean is here to assist you in any way we can, and that now includes electronic requests. A plan to declutter your home has never been easier. Submit your photos today and allow the professionals at Steri-Clean to assist you in enjoying your home sooner than you thought possible.