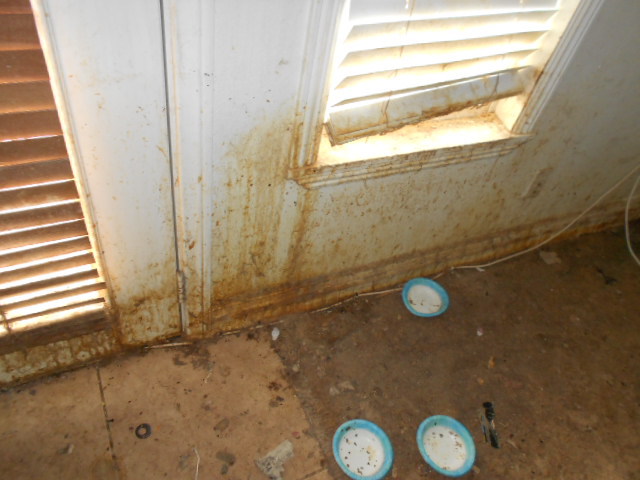 Somehow along the way, they experience a growing need to accept more animals into their mix than they can realistically care for.
These individuals are not trying to do any harm, they just simply can't keep up with the workload that caring for a large , growing number of animals requires. Steri-Clean, Inc., is here to help. We have cleaned hundreds of homes affected with animal hoarding that have  including cats, dogs, birds, reptiles, and even a tiger hoarding case! Dead animals, animal waste, nesting materials from rodents and high ammonia levels are the most common finding within these homes. Bar none, cat houses are our most predominant animal hoarding case, and are among the worst due to the limited water consumption and high crystallization of cat urine.
Their urine saturates everything in the home leaving most of the contents unsalvageable. Beyond that, structural damage is also found within these homes where the urine has physically destroyed carpeting, flooring and drywall. These animal hoarding cases need thorough attention and services must be performed by a company with the knowledge and equipment to properly remediate these homes. But most importantly are the values of that company, one that stands on integrity, honesty, and compassion that it takes to properly deal with these individuals.
Steri-Clean, Inc. will sort through the contents and save anything that has not been destroyed. Items that are able to be salvaged can be completely cleaned and disinfected. Steri-Clean, Inc. will also assess all structural elements throughout the home to consider the options available in addressing any potential damage.
Call us 7 days a week to discuss your needs or submit your photos online for an estimate.
Our Hoarding Cleanup Services Include:
Only Discreetly Marked Vehicles are Used
Free Email and Phone Support
Free Photo Estimates
Non Judgmental Hoarding and Clutter Clean-Up that is Catered to Each Individual Client
Triage and Sorting of Contents
Recovery of Valuables and Sentimental Items
Paperwork Recovery and Storage
Cleanup and Disposal of Animal/Human waste
Deep Cleaning/Gross Filth
Home Repair Referrals
Necessary Aftercare Resources
Appliance Recycling
E-Waste Recycling
Delivery of Storage
Containers Removal
Recycling of Non Running Vehicles
Photo/Video Documentation
Itemized Inventory
STEP 01

complete the INQUIRY form WITH YOUR DETAILS

STEP 02

UPLOAD PICTURES of the home or property we will be cleaning.

STEP 03

Indicate a good time to call you AND SUBMIT
We'll review your submission within one business day of receipt and contact you at the desired time to review your request.
Discuss your desire for the cleanup process; what you would like the home to look like, what your goals are, answer your questions. Some homes may still require an in-home assessment.
We'll email an estimate which details our discussion, the custom tailored approach to restore your home to a safe, functional, and enjoyable home for you, and provides a price for the services.
The team at Steri-Clean is here to assist you in any way we can, and that now includes electronic requests. A plan to declutter your home has never been easier. Submit your photos today and allow the professionals at Steri-Clean to assist you in enjoying your home sooner than you thought possible.